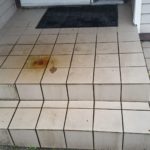 This West Vancouver home inspection post has a focus on flooring and how important it is to have the right surface for any indoor or outdoor area. Otherwise you risk having a slipping hazard.
EKAN Inspection recently did a home inspection in West Vancouver for a client, with a mobility issue. The client had asked that the home inspection pay special attention to exterior slip, trip and fall hazards. On the day of the inspection it was clear and dry. The property presented well. There were no broken or uneven surfaces, steps of uneven height or inadequate railings. Everything functioned as intended. However for this particular home inspection there were three exterior surfaces identified that changed their friction characteristics according to the weather conditions:
Smooth finished concrete (on a porch).
Moss growth on asphalt or concrete (on a driveway).
Cedar or wood planking surface (on a deck).
Under dry conditions, there are no issues; however, when it rains (as it does here a lot) these same surfaces become as slick as a sheet of ice. For the most part these conditions can be tolerated or cleaned up as in the case of moss growth. When I say 'tolerated' it means that most people will still be affected by these conditions but can recover quickly enough so that a slip does not turn into a fall. But for those persons with limited mobility they present risk factors that cannot be ignored.
At some point in the future I believe that building codes will incorporate universal access standards that will specify minimum friction requirements for wet surfaces. And we will think nothing of it because it's just the right thing to do.